Chinese Stir Fried Shrimp With Asparagus
Nif_H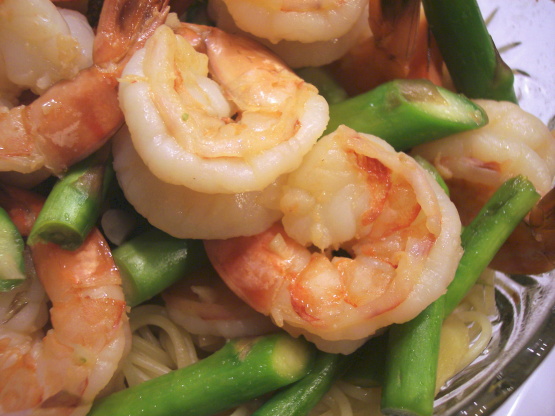 ZWT 6. I got this recipe from Kylie Kwong's Simple Chinese Cooking. I love that book and her cooking style. If you don't have shao hsing wine, use dry sherry wine instead.

Top Review by Nif_H
This is absolutely fantastic. The shrimp was perfectly cooked and was tender and delicious. The asparagus is bright and crisp, with the the fresh ginger and garlic adding a nice kick. I used cider vinegar instead of malt vinegar. Served this over some pasta to catch the yummy sauce. Made for my teammate for ZWT6. Thanks Pesto lover! :)
Peel, devein and butterfly the shrimp, leaving tails intact.
Wash asparagus and snap off tough ends. Cut each spear into 4 diagonal cuts.
Heat 2 tbsp oil in a hot wok. Add half the shrimp and stir fry for 30 seconds.
Remove shrimp from wok with a slotted spoon and set aside. Repeat with remaining shrimp.
Add remaining oil to hot wok. Stir in asparagus, thinly sliced ginger and garlic. Stir fry for 30 seconds, stirring constantly so that garlic does not burn.
Put shrimp back into the wok with the wine, the vinegar, soy sauce, sugar and sesame oil. Stir fry for 30 seconds.
Pour in water and stir fry for another 30 seconds or until shrimp are just cooked through.
Arrange shrimp and asparagus on a platter and serve with steamed rice, if desired.