Derf2440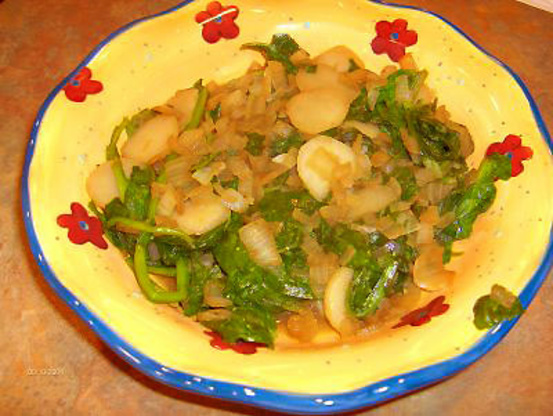 Diabetic Popeye food with a bit of crunch. from - The High fiber cookbook for Diabetics by Mable Cavaiani, R.D.

We had this for dinner last night with Kiwidutch's "Cant Get Any Easier Pan-Seared Scallops". I cut the recipe in half and used fresh spinach because that is all I had...I just cooked all the ingredients (except spinach) per instructed and then added the spinach and let it cook down for a few minutes. Wonderful. Thank you.
Cook spinach according to directions on package.
Drain well and set aside.
Preheat a small saucepan over medium heat for 1/2 minute.
Swirl oil around the bottom of the pan, add onions and cook and stir until onions are soft but not browned.
Add soy sauce and sugar to onions and mix lightly.
Add chestnuts and spinach to onion mixture and cook and stir over medium heat to reheat to serving temperature.
Serve hot using 1/2 cup per serving.
Food exchange per serving: 1 veggie and 1 fat, Low sodium diets, omit soy sauce low cholesterol diets, use as is.