Bergy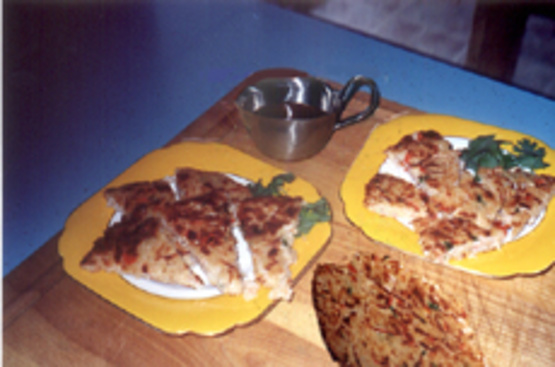 This is my twist on one of my childhood favorite in a local restaurant back in Taiwan. For a long time, I've tried to imitate the recipe but never quite got it - until I replace mayonnaise with whipped egg whites for binding the pancake together. Yum! The original version also had water chestnut, which I hate and have eliminated 8). My friend says that this goes very well with a tossed purple onion salad and drizzle with hot pepper sauce. Enjoy!

Top Review by Bergy
Excellent golden appearance. A bit bland for my taste next time I will add on small hot pepper - I think most will think it is just right. Don't skimp on the Cilantro. I was a bit worried when I mixed it together and wondered if it would hang together don't worry it does - takes about 8 min on each side medium heat. I was cautious flipping it over and used a plate as suggested.. The ketchup sugar sauce sounded a bit sweet to me so I served it with a Pad Thai Sauce. I will be making this recipe again thanks Connie Lin
Whip the egg white until stiff.
Cut the imitation crab meat into little strips lengthwise than.
Use the back of your knife to"flatten" the shrimp then mince.
Mix all the ingredients for the panckae until they bind well (you can adjust the consistency with some cornstarch or more egg whites).
Heat your wok.
Spray with cooking spray and some peanut oil in the wok (make sure you use enough oil or the pancake won't be crispy! I use about 2 tbsp).
In the med-high temp wok, put all the pancake mixture into the wok and use the back of a big spoon, flatten the mixture on the wok.
When you can start to smell the yummy pancake cake, flip and cook the other side until done (I never learn how to just "toss" the pancake, so I slide it on another plate and then flip it).
Cut the pancake into finger-food size.
Garnish with more cilantro.
Mix the sauce and serve!