Parsley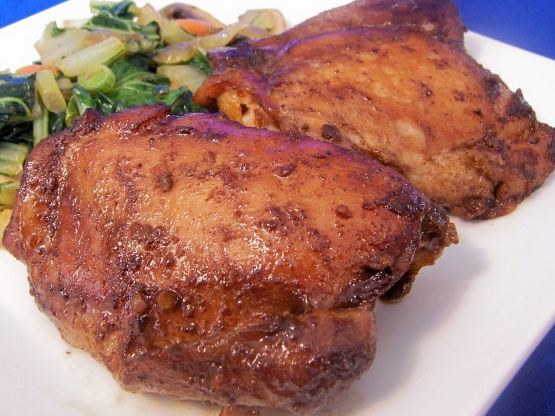 When I first left home I shared a flat with a chinese girl and this is one of the ways she would cook chicken. The marinade is sticky and yummy and smells wonderful.

Truly wonderful! Used drumsticks and boneless thighs and think I will use all thighs next time. Juicy, dark, sticky, just as advertised. For the people who are having a hard time with it being runny, you probably aren't using Dark Soy Sauce. This is a different soy sauce, not regular soy sauce which is dark for sure. Dark soy sauce is sweeter. Regular soy sauce is just salty. Make a trip to an Asian grocery and purchase some Dark Soy Sauce. Another reason may be the fat from the chicken, I noticed it runny under the drumsticks with skin and stickier under the skinless thighs.
Marinate chicken pieces in all the other ingredients for at least 2 hours, turning pieces now and again.
Arrange in a single layer in a roasting dish and cook in a moderate oven (160 C / 325 F) for 30 minutes, turn pieces and cook a further 25 minutes.
Serve hot or cold (cooking time includes marinating time).