Chinese Restaurant Ginger Cashew Chicken
Snowpeas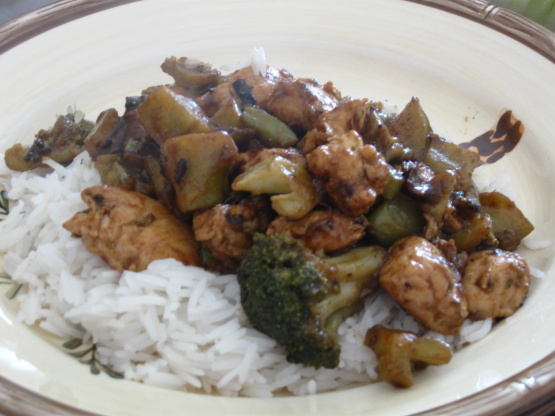 Posting so I don't lose the recipe, no idea where I got it. I've made it many times and it's the best Chinese Chicken in a town where there are no Chinese restaurants! Some quantities are iffy, the original recipe didn't specify.

I hate to be the party pooper, but my family said that it just didn't have the sweetness or the zing that my stir fry using the orange-ginger marinade and sauce by la choy. Very disappointed in their review, but not in the recipe, as it seems to be a winner for others and my family is *****VERY***** picky. Thanks! Oh, and if I were to do it again, I'd prob. add some citrus zest (whichever I had on hand) and some sugar or something. mom's diabetic though, so this was enough of a splurge.
Heat 2 tbs. oil in wok or skillet over high heat. Add onions and cook until tender. Add garlic and ginger and cook until onions are golden brown. Add chicken and celery and cook until chicken is cooked through, about 5 minutes. Transfer to platter.
Add remaining oil. Add flour and stir until turning brown. Mix in broth, soy,and mustard. Boil until thickened. Add in chicken and broccoli, turning to coat. Mix in cashews and cook until heated through.
Transfer to platter and serve with rice.