2Bleu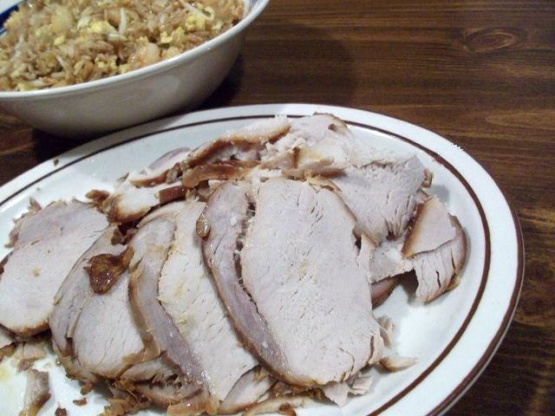 You will love the aroma coming from your kitchen with this dish. In this recipe the fat and skin are removed from the pork before slicing. The Chinese consider this to be a delicacy so leave it on if desired. This sweet and tender pork is delicious served over mounds of white rice. You can also use a boneless pork tenderloin, although bone-in is prefered. Leftovers? Try Best Pork And/Or Shrimp Egg Rolls

Not what I expected but very good nonetheless. The words red-cooked had me believing this would have a reddish tint to the meat but it did not. Used everything as posted except had to use a pork roast and made just half the recipe for the two of us. Leftovers were even better than first serve. Made for PRMR.
(Note: If you are using a 'boneless' pork roast, you can skip this step but you will still need to preheat the oven). Preheat oven to 350°F Using a sharp knife, score 3" slits all over pork skin (do not cut into flesh). Place pork in large Dutch oven. Add enough cold water to cover pork. Bring to boil over high heat; cook 10 minutes. Drain by rinsing under cold water. Return pork to dry pot.
Mix 1/2 cup water, 1/4 cup soy sauce, and 1/4 cup Mirin. Drizzle over pork. Cover and bake for 30 minutes. Mix remaining ingredients and set aside.
Turn pork over and baste with pan juices. Cook 30 minutes longer.
Turn pork over and drizzle the soy sauce mixture (that you had set aside) over roast. Cover and bake 1 hour or until pork is tender, turning and basting after 30 minutes.
Increase oven temperature to 375°F Turn pork skin side up and bake this time uncovered for 30 minutes, or until pork is glazed and skin is slightly crisp.
SERVE: Transfer pork to a cutting board with juice-catching channel; cool 5 minutes then remove and discard the fat and skin from pork, if desired. Cut pork crosswise into 1/2" thick slices.