teresas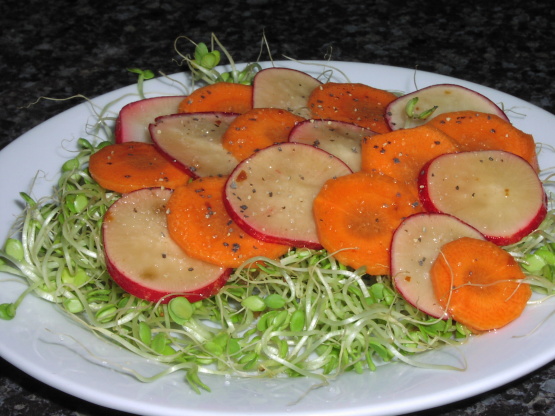 The tangy taste of radishes wakes up this salad! Adapted from Vegetarian Times cookbook. Cook time is marinating time.

What an unusual salad...I would never of thought to mix radishes and carrots together in a soy mixture...with that said...this was really yummy...I did let my salad marinate overnight...I don't think that was smart...my radishes took on a dark hue due to liquid mixture..,both the carrots and radishes were very tender and lost their crispness...I think I would have preferred the bite to the veggies...I also use clove sprouts...because I had a hard time finding alpha sprouts...overall a very tasty and one of a kind type of salad...thanks for posting it...=)
1⁄2 cup radish, sliced thinly

1

carrot, sliced thinly

1

tablespoon soy sauce

1

tablespoon rice wine vinegar

1

tablespoon honey

1

teaspoon peanut oil
1⁄2 teaspoon hot pepper sauce (optional)

2

cups alfalfa sprouts (I use half lentil sprouts)
salt and pepper
Combine radishes and carrot in a shallow container. Whisk the soy sauce, vinegar, honey, oil and hot pepper sauce together in a small bowl. Pour over the radishes and carrot. Cover and marinate in fridge for 1 hour minimum.
Just before serving, place the alfalfa sprouts on a small serving dish and arrange the radishes and carrots on top. Salt and pepper to taste. Enjoy!
Serves 4.