Chinese Quick Pickled Radish Salad With Garlic
Rita1652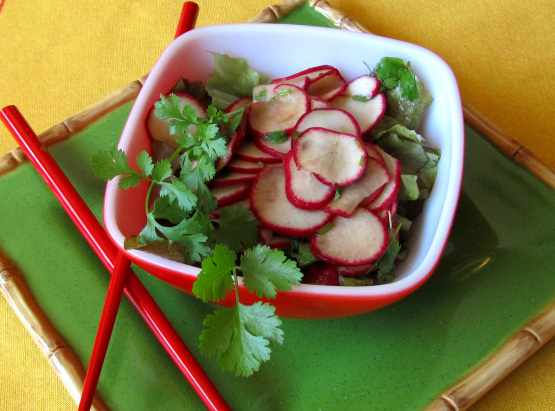 A fabulous way of adding a bit of colour along with a crisp texture in Chinese cooking; this can be made just before you are ready to serve an Oriental meal, and is one of the nicest ways I know of dressing up the humble radish! You can use red radishes, Chinese white radish - Mooli or even black radishes for this quick pickle. Serve it as an accompaniment for most Chinese or Asian meals. Make sure that whatever type of radishes you use, are fresh, firm and crisp. I prefer the red radishes for colour, but any of the radishes I have suggested work well in this simple pickle. The quantities listed below, will serve about 4 people as a generous condiment.

This is by far the best radish salad I ever had!!! I loved the cilantro matching with the radish. I made for just myself because I am the only one in my home the enjoys cilantro. I do wish I made the whole batch. I did serve over Recipe #136629. Thanks Karen you are the best! Made for ZWT 6.
Slice the radishes finely. Add all the other ingredients, leaving some coriander (cilantro) leaves for a garnish and mix thoroughly.
Put the radish pickle into an attractive serving dish and just before serving scatter the remaining coriander (cilantro) leaves over the top as a garnish.
Serve with all types of Chinese and Oriental food.
Keeps for up to 24 hours in the fridge.