Pamela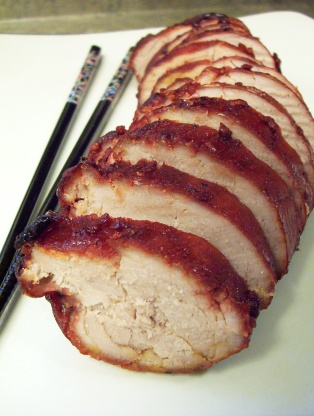 In Canada, when we order chinese food, we always get this as an appetizer and I finally got this recipe right after much tweaking. It's flavour is right on and the pork is very tender. Does not include marinating time.

This was awesome! I didn't use it as an appetizer. The sugar balances out the pepper nicely. No one ingredient was overpowering. I took the marinade and, after boiling & adding about 1 T of cornstarch, used it as a sauce over the meat. Soooo good! I found that it takes much longer to cook than directed though. I didn't keep track of the total cooking time, I just kept poking it with my thermometer till it was 145 degrees.
Mix all ingredients except pork.
Place pork and marinade in a ziplock bag.
Keep in fridge 24 hours turning bag occasionally.
Preheat oven to 425.
Place pork on a foil-lined baking sheet.
Roast for 25-30 minute.
Let sit for 5 minute before slicing into medallions.