fawn512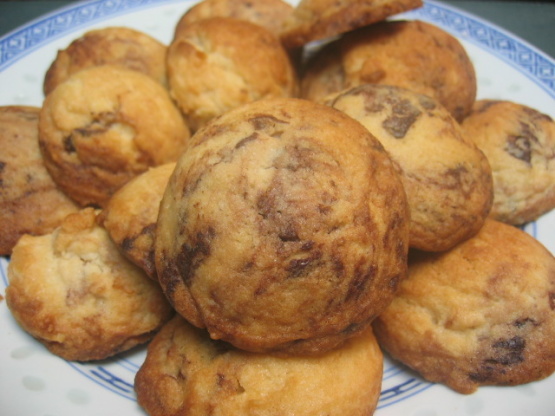 Posted by Chef #446736 on zaar forum: "This recipe appeared in our newspaper several years ago. It was from the "Dear Ask-it" column with this introduction: This is for M.F. of Canandaigua. It is a very close substitute for Sibley's original Chinese Marble Cookies. I make them all the time. It was submitted by K. L. from Hilton, NY. These are very crisp and delicious." NOTE FROM DES: One suggestion you might want to make if you decide to post this recipe is not to use a cookie scoop. By using a cookie scoop it will cause the chocolate to blend into the dough more than what is desired.

These are by far my favorite cookie! I only use shortening, you get crisper outter and a chewier inner. I also added about a teaspoon extra of vanilla and a whole tsp of almond extract. An extra ounce of chocolate is delish! I roll them in sugar thn flatten! Yum, enjoy!!
Preheat oven to 400 degrees.
Beat the shortening with sugar and egg until light and fluffy.
Add egg, then vanilla.
Add dry ingredients and beat until well combined.
Add chocolate a little at a time, cutting in with a knife. Do not stir.
Form dough into balls and place on an ungreased cookie sheet. Flatten with the bottom of a sugar-coated glass.
Bake 8 to 10 minutes until lightly golden.
NOTE: I find these a bit salty, i will have to reduce the salt next time. Baked them for 15min.