Catnip46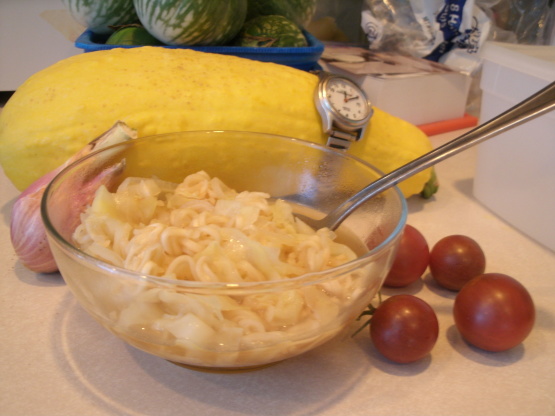 I like to serve this for Chinese New Year as the ingredients of this soup are cut into long pieces, symbolizing hope for a long life.

I too have this recipe in my Cooking Class Chinese Cookbook. I bought a nice head of cabbage at the farmers market and came across this recipe in my book and decided to try it. I halved the recipe and it still made a lot of soup for one person. Not to worry thou, it was so good I ate half of it the first night and the rest of it the next night. I used a pkg. of Ramen Noodles and half of the flavoring packet. Sooo Good!
Heat oil in a wok or large skillet over medium high. Add pork and cabbage and stir fry until meat is no longer pink, about 5 minutes. Add chicken broth, soy sauce, and ginger. Bring to a boil and reduce heat to low. Simmer 10 minutes, stirring occasionally.
Add noodles and cook until tender, about 2 to 4 minutes. Stir in onions (they should curl) and serve.