Chinese Lo Mein With Peanut Butter Sauce
Debbwl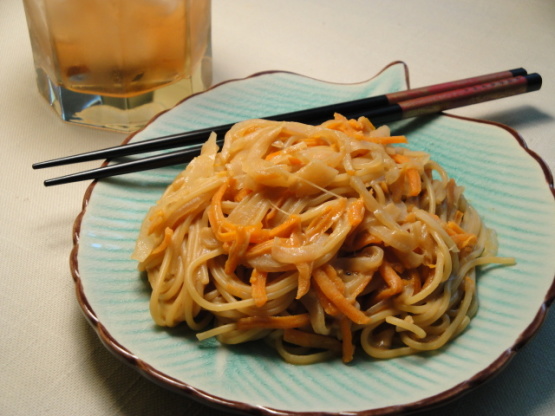 Great flavors! A wonderful side dish to have with any Chinese dinner! The addition of chopped carrots and onions make this lo mein very delicious. Serve warm or cold.

Very good! Easy & fast too. I changed just a couple things..I added some shredded cabbage and waterchestnuts. I sauteed those along with the carrots and onions rather than cooking them with the pasta. When the pasta was done, I threw the veggies and the sauce into the drained pasta and mixed. I love how versatile this is. Great side dish, but could be a great main dish too with the addition of some chicken or shrimp. Will definitely make again. Thanks!
Boil pasta in water with salt. Add carrot and onion. Cook until pasta is al dente and drain.
Place peanut butter in a small bowl. Using hot tap water, stir into peanut butter. (May adjust by using more water if desired thinner sauce).
Add remaining ingredients and stir into noodles. Serve warm or cold.