lazyme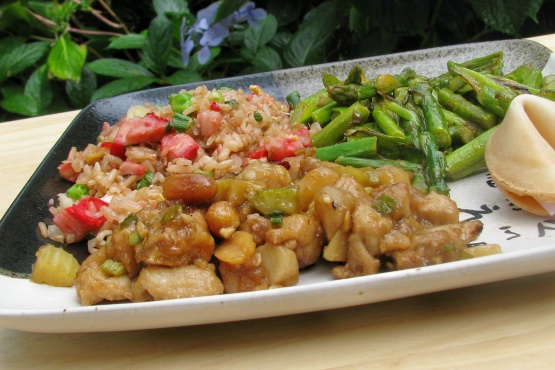 Top Review by LeeAnn
This was awesome!!! I didn''t have any dry sherry so I left it out.I also left out the thai peppers (I have small children) and sprinkled dry red pepper flakes on whom ever wanted at the table. I used onions, red pepper, mushrooms, carrot, brocolli and celery and served it over chinese noodles. YUM YUM YUM!!! I also added two cloves of garlic when stir frying my veggies.
Cut chicken into bite size pieces.
Combine egg white, corn starch, pepper and soy sauce in a glass bowl.
Add chicken pieces mixing to coat well.
Cover and refrigerate 30 minutes.
Vegetables: Set aside prepared vegetables.
Sauce: Mix all sauce ingredients in a glass bowl and set aside. ) In a wok or large frying pan, stir fry the red peppers in the 1 Tbsp peanut oil over med.-high heat until the peppers are almost golden brown.
Add chicken mixture and stir-fry until the chicken is almost cooked through-add the vegetables and stir-fry a couple of minutes.
Add the sauce mixture and heat for a minute or so.
Serve over rice and sprinkle peanuts over each serving.