Chinese Jewish Passover Stir Fry
Derf2440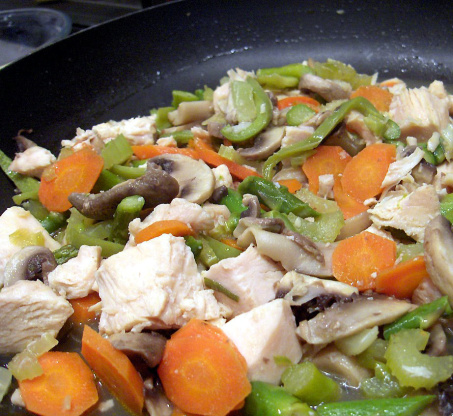 Another one of my favorite recipes from the cookbook It Tastes Too Good To Be Kosher. I've made this every year since I got the book as a present in 1997. We're not fans of Passover noodles and we don't eat rice on Passover, so we usually eat this over matzo farfel.

I had my doubts about this one. First, it just sounded a bit odd, plus I'm not a big fan of red peppers or celery, but I really liked the way these flavors went together. I left out the cayenne pepper. My husband added teriaki sauce to his (maybe not kosher, but we're not Jewish).
In a large skillet or a wok heat the oil.
Add the red pepper, scallions, celery, carrots, cayenne pepper and garlic.
Saute until tender.
Add the ginger, salt and mushrooms.
Cook for an additional 5 minutes.
Lower the heat and add the chicken.
Make sure you heat the chicken thoroughly.
Serve over Passover noodles or rice (Sephardim can have rice on Passover).