KateL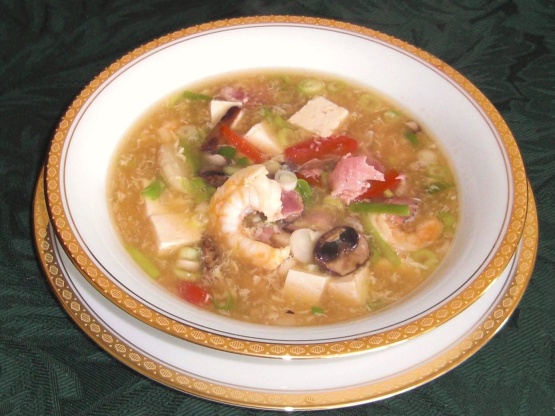 Made this Chinese Szechuan soup a few times and it's always consistently good. Very appetising. Recipe best made just before serving.

Top Review by KateL
3 Stars, very good but mild soup, but it was not spicy nor sour enough to be a close replacement for the version sold in good Szechuan restaurants in the U.S. Please see my rating system, I reduce to 3 stars when I believe a recipe needs corrections or clarification. I think the "chili sauce" I used was not the ingredient Cook Food Mood intended; she probably meant garlic and red chile paste instead, or I needed to be mindful that Chinese chili sauce is much more potent than my usual Heinz 57 variety. I think this dish usually has julienned pork or ham as opposed to thinly sliced ham (which equates to deli sandwich slices in the U.S.). Oddly, at Whole Foods Market I could not find dried Chinese mushrooms, but I used 8 ounces of beautiful fresh oyster, baby portabella and shitake mushrooms, removing the stems. My soup looked like the restaurant dish, but it lacked the strong taste I usually get at a restaurant. I used a very good quality firm tofu, which worked fine, and DH said he could handle it (just as he does when he eats out!). I used rice salad vinegar because I thought that would be closer to oriental cooking; I did not think that apple cider vinegar was the intended taste. It may be possible that my rice salad vinegar was too diluted and I should have purchased Chinese rice vinegar. I used a regular sake for the Chinese wine. If Cook Food Mood revises or clarifies the ingredients, I would be happy to re-make this soup and re-review. Made for Fall 2008 Pick-a-Chef.
Combine chicken broth, wine and sauces in large pan until boiling.
Stir in blended cornstarch and water slowly.
Add mushrooms, ham, chestnuts and bell pepper to pot and simmer for 5 minutes.
Add vinegar and sesame oil to pot.
Lightly beat egg and 1 tbsp of water. Add to soup while stirring constantly.
Add spring onions, shrimps and beancurds. Simmer for 1 minute.
Scoop into soup bowls and serve hot.