Marlene.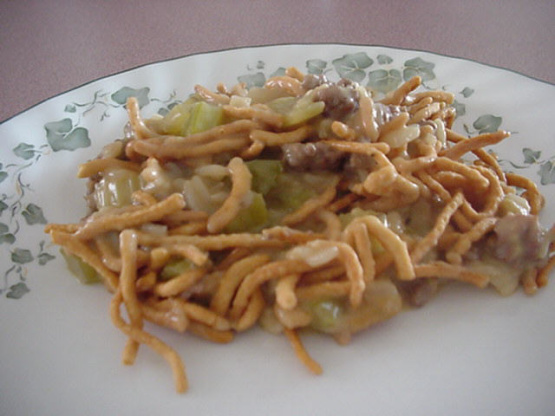 This isn't really 'typical' Chinese food... but it has Chinese elements! *LOL* We used to eat this growing up ... I have recently been reintroduced to it through my sister, and boy am I ever glad! :-) It looks a bit , ummm... nasty when mixing *LOL* but it is very good! :)
I love this my mom made it a lot when I was a kid. I use low sodium soup and soy sauce as we are not big salt eaters & leave out the celery and onions...we serve it with green beans on the side!
Brown hamburger and onions.
Add celery, rice, soups, water and sauces.
Pour into a sprayed 13x9 pan.
Bake at 350°F for an hour, stirring a couple of times during cooking.
Top with chow mein noodles and bake 10-15 minutes longer.
Enjoy!