Kim127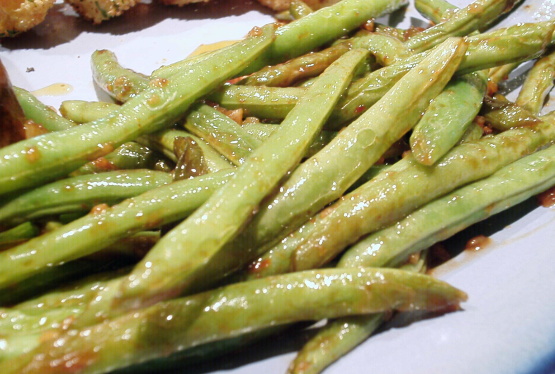 I love the green beans found on Chinese Restaurant buffets! They are the bomb! I could easily pay for the entire buffet and only eat the green beans! I found this recipe while searching for the technique online as I was told the secret was that they were Dry-Fried. Oh Yum! Thanks to Ronda Parkenson for the recipe I adapted. I found that I did not need as much oil when making this recipe....so i reduced the oil amounts to what I used, if it does not look like enough for you, feel free to add more.
1

lb green beans

Sauce

1

tablespoon chinese black bean sauce (available at Asian markets)

1

tablespoon dark soy sauce or 1 tablespoon tamari

2

teaspoons chinese rice wine or 2 teaspoons dry sherry or 2 teaspoons rice vinegar
1 1⁄2 teaspoons sugar

Other

1

tablespoon chopped garlic

1

tablespoon chopped ginger

2

scallions, chopped, white part only
1⁄2 teaspoon chili paste or 4 -6 small dried red chilies

2

tablespoons peanut oil, for stir-frying more if needed

1

teaspoon sesame oil, for stir-frying (can use peanut oil, your preference)
Wash the green beans and pat dry with paper towel. Cut ends on the diagonal leaving beans long.
Combine the sauce ingredients and set aside.
Warm a wok over medium heat and add 2 tablespoons peanut oil. Drizzle oil down the sides of the wok.
Once the oil is heated, add the green beans. Stir-fry for about 10 minutes, or until the skins pucker and turn brown and the green beans are tender (NOT mushy). Remove the beans from the wok.
Over medium-high heat, heat 1 teaspoon sesame oil. Once the oil is hot, add the chopped garlic, ginger and scallions. Stir-fry briefly for a few seconds until aromatic. Add the chili paste or dried chili peppers.
Add the sauce and the green beans to the wok. Toss and serve hot.