karen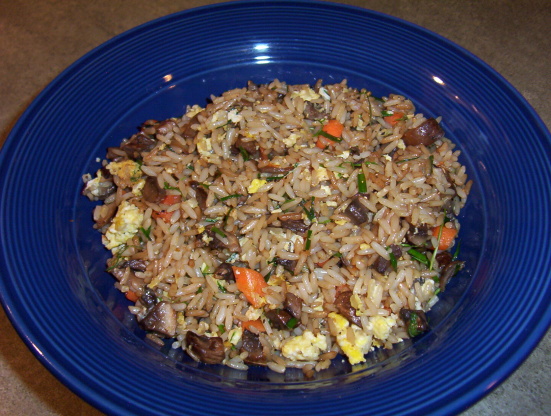 This was my mother's favorite way to use up leftover white rice. It really doesn't taste like the fried rice you get at a restaurant, but it still a great meal. I typically throw in whatever vegetables I have in my kitchen, and leave out the shrimp or chicken. I also cut this down to accommodate the amount of rice I have. Cooking time does not include making rice, chicken or shrimp since this is usually made out of leftovers.

This was really pretty and I liked the flavor. I think my rice got a little crunchy because I tried to get it "browned" before I added the other ingredients. If I make it again, I'll make sure to not over cook it in the second step. Thanks for sharing your mom's recipe Karen.
3

cups cooked rice, cold

3

tablespoons oil
3⁄4 cup scallion, sliced
3⁄4 teaspoon salt
1⁄4 teaspoon pepper
1 1⁄2 cups diced cooked shrimp (optional) or 1 1⁄2 cups diced cooked chicken (optional)

1

egg, beaten

3

tablespoons parsley, minced

1

tablespoon soy sauce
Make rice in advance and refrigerate.
Heat the oil in a skillet. Stir in the rice until lightly browned, pressing out any lumps.
Mix in the scallions, salt, pepper and shrimp or chicken. Saute for 1 minute.
Make a well in the center of the rice and pour the egg into it, stirring until barely set.
Stir egg into the rice mixture.
Add the parsley and soy sauce and stir. Cook 1 more minute and serve immediately.
For Vegetarian omit both the chicken and the shrimp.