TobieWin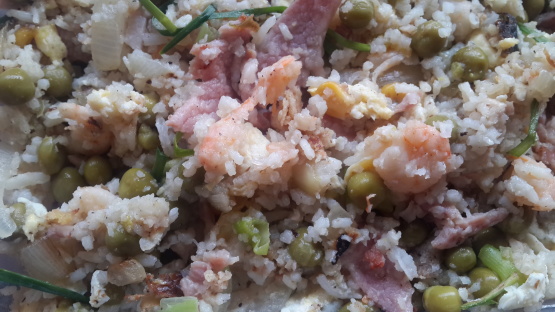 This dish is great as a side for your favourite Asian meal or even for lunch. It tastes just like our local Chinese restaurant without any bad reactions to MSG.
For more flavor and a lower sodium dish, you could make the choice to replace the light soy sauce with sesame oil. To make up for the loss of flavor you would raise the soy sauce drops from 3 to 5. I also would up the vegetable amounts or add other vegetables. If you're only concern flavor, incorporate in some oyster sauce like many restaurants do.
2

eggs, lightly beaten

1

medium onion

250

g ham

2

tablespoons peanut oil

4

cups cold cooked medium-grain rice
1⁄4 cup frozen peas

2

tablespoons soy sauce

250

g cooked small shrimp, peeled
Season eggs with salt and pepper.
Peel onion and cut into wedges about 1.5cm wide. Cut spring onions into shorts lengths on the diagonal. Cut the ham into very thin strips.
Heat 1 tablespoon oil in a wok or large frying pan and add the eggs, pulling the set egg towards the centre and tilting the pan to let the unset egg run to the edges. When almost set, break up into large pieces, to resemble scrambled eggs. Transfer to a plate and set aside.
Heat the remaining oil in the wok, swirling to coat the base and side. Add the onion and stir-fry over high heat until it starts to turn transparent. Add the ham, stir-fry for 1 minute. Add rice and peas, stir-fry for 3 minutes until rice has heated through. Add eggs, soy, spring onions and prawns.
Heat through and serve.