Chinese Five Spice Marinated Salmon
Boomette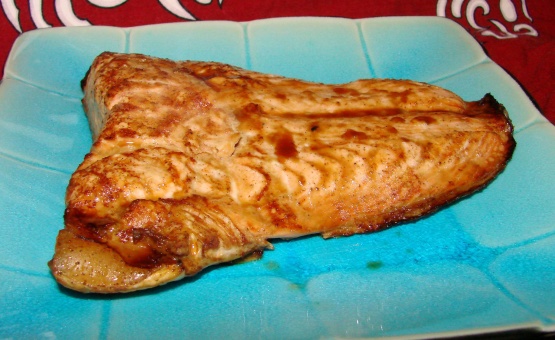 I've developed this recipe to be used with my bamboo steamer. Use your favorite oriental sauce or try my favorite bottled sauce, Iron Chef's Orange- Ginger Sauce. Or try the sauce used in Wasabi Crusted Salmon With Orange Ginger Sauce Since my steamer has two baskets, I cook the fish in the bottom basket, and veggies in the top. Serve over rice; makes for a great one pot dinner! Time indicated does not include marinading time! NOTE: Cooking Sherry or Gin can be substituted for the rice wine.
Combine the marinade ingredients in a shallow nonmetalic baking dish or ziplock bag,.
Add the salmon strips and turn gently to coat.
Refrigerate for a minimum of 30 minutes or up to 6 hours, turning often.
Steamed Salmon:.
Remove salmon from marinade and place in a casserole dish that will fit inside your bamboo steamer. (I use a disposible aluminum cake pan that has been slightly modified to allow steam to filter around the sides.).
Generously brush salmon with your favorite oriental sauce; sprinkle grated ginger on top.
Cover with bamboo lid and place over boiling water to steam.
Steam for 10-12 minutes; or until fish flakes with a fork.
Serve over rice with lemon/lime wedge.