Chinese Five Spice Lacquered Chicken
ImPat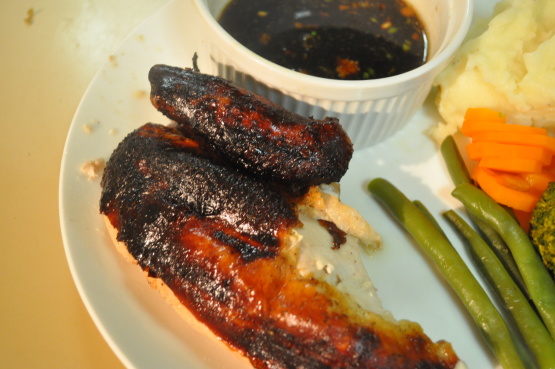 A wonderful recipe adapted from Food Network Kitchens cookbook. Chicken is universally cooked all over the globe. Try this Chinese version!

Top Review by ImPat
Sorry this did not work for us, followed the recipe though having a fan forced oven I lowered the temperature to 200C instead of 200C and after the first 20 minutes it was burning crisp skin and the breast was nice and just brown, I lowered the temperature to 170C and put back in for 15 minutes and well I had burn spots and was not cooked by any means, so put a lid on the pan and cooked till done. The dipping sauce had a mixed reaction from forget (expected that one) to absolutely marvelous (expected that one too) and that was using low sodium soy - yes the salt love thought great and the non salter was hummm. Overall would give it another go but definately cook at lower temperature and only make a half serve of the dipping sauce for those that like it.. Thank you Sharon123, made for Everyday A Holiday.
Chicken:.
Preheat oven to 425*F.
Stuff the chicken cavity with the scallions, ginger, and orange zest. Set a v or regular rack in a roasting pan and brush with 1 teaspoons of the peanut oil. Whisk the rermaining 1 teaspoons peanut oil with the sesame oil, honey, and soy sauce. Brush the soy mixture over all of the chicken and sprinkle with five spice powder.
Tuck the wings under the back, cross the legs, and tie them with kitchen twine. Place the chicken breast side down on the rack and roast until the back is golden brown, 35-40 minutes.
Remove chicken from the oven and turn it over, breast side up. Cut the string where it holds the legs together and gently open the legs a bit. Baste the chicken with the pan drippings and roast again until the breast is golden brown and a meat thremometer inserted in the thigh registers 170*F., 20-25 minutes more. Move to a carving board and let rest for 10 minutes before carving.
To make sauce:.
Whisk the soy sauce with the rice vinegar, sesame oil, orange zest, ginger, garlic and scallion in a small bowl.
Carve the chicken into 8 pieces, serve, and pass the dipping sauce at the table. Enjoy!