Linajjac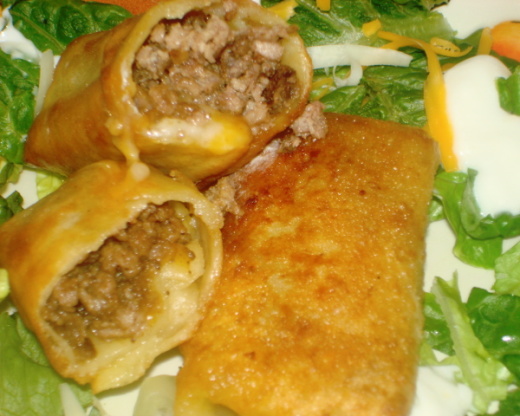 I have not put a recipe for the filling but there are many recipes here on recipezaar. Check out Bergie's Dim Sum recipes and many others

1: I omitted the sugar. 2: Make sure the batter is thin. (more water may be needed) 3: I used cooking spray (any flavor) to lightly spray the bottom of a square 9"x9" cake pan & poured some batter in & shook it back-and-forth until I had a thin layer of batter in the bottom of the pan 4: Cook on stove-top over medium-low heat until top looks like it is not wet. 5: Using oven mitts, pick up pan & slam on cutting board to release the cooked batter. 6: Cut in 1/2 lengthwise & 1/2 with-wise. 7: You now have perfect 4 1/2"x 4 1/2" squares. 8: If using immediately, stack on plate & cover with moist (not wet) towel. 9: If not using immediately, refrigerate or freeze in ZipLock Baggie with air sucked out until ready to use. (if refrigerated or frozen, warm to room temperature before using to avoid breaking) 10: If freezing, place on cookie sheet in single layer, & place in freezer until frozen, then place in ZipLock Baggie, suck out the air, & place back in freezer (this will prevent them from sticking together) 11: Can use a 8"x8" square cake pan and after cooking, do not cut & you will have one BIG wrap.
Place all the ingredients in a blender, blend for 1 minute.
Scrape down the sides, blend for a few seconds more until smooth.
Refrigerate for 1 hour.
To Cook-----------------.
A- Use upside down crepe pan& follow instructions or B- Use a non stick skillet, you do not need oil or additional fat on the pan.
Pour a little batter in the pan, tilt the pan and turn the pan to spread an even thin layer of batter on the bottom of the pan.
Cook over medium heat for a minute or two (these wraps will not be brown when they are cooked but will brown when you fill and fry them later).
Flip the wrap and cook second side for a few seconds.
When freshly cooked these are very easy to fill and fold, I recommend to have your filling ready and fill each one as it comes off the pan.
Filling suggestion available under Chinese recipes here on Zaar.
You may now continue to fry the egg rolls or wrap them in plastic wrap& foil and freeze them for future use.