mlao77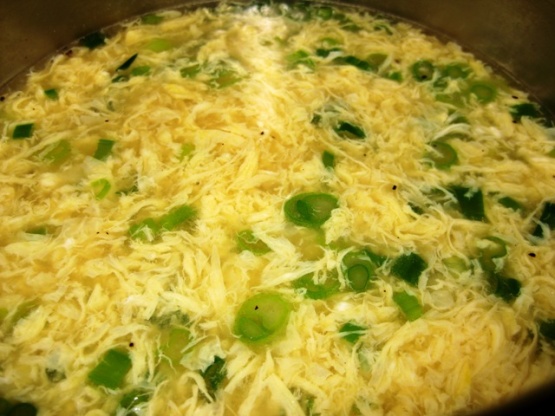 As a kid, I looked forward to one of my mom's signature dinners: fried chicken wings and egg drop soup. I have no idea how she came up with this combination, but as a mother of two myself, I want to create the same memories for my own kids. The egg drop soup I've had in restaurants over the years always seemed to pale in comparison to my mom's and I recently figured out why. My mom added a tiny bit of sugar to the soup to balance the usually salty/peppery taste of this soup. No wonder why I loved this as a kid. I served this a few days ago and my son asked for seconds (something he never does)... so 'thanks, mom!' Enjoy this simple, yet tasty soup!

That was fast, easy, and turned out very good. I would use just egg whites next time, and perhaps thicken this more. A very good version of one of my favorite Asian soups. Thanks for sharing.
In a saucepan, bring chicken broth, rice wine, ground ginger, white pepper and sugar to a boil on medium to high heat.
Simmer for 7 minutes.
Add scallions and let simmer for 4 minutes to soften.
While stirring soup in one, constant direction with one hand (very important to get long threads) slowly pour beaten egg into broth with your free hand.
Stir in the same direction for 1 minute.
Make a slurry by combining the cornstarch and water.
Add slurry to soup and stir and let soup thicken.
About 2 minutes. Enjoy!