Chinese Crisp - Fried Salt and Pepper Squid
Luschka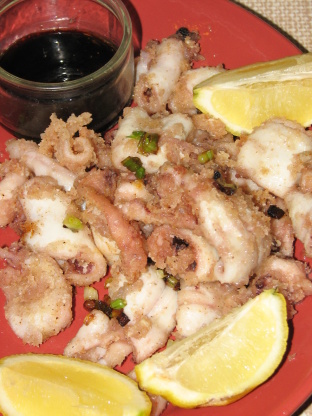 This is one of my all time favourite Chinese dishes. Baby squid are best for this recipe as they cook quickly and are tender.

This was absolutely delicious. I didn't have chillies, which was unfortunate, but the rest I had and it swas simply stunning. The only difference was that I'd never fry the squid for two minutes. I think it would become quite tough. I fried it for closer to 30 or 40 seconds, and it was melt in the mouth soft. Delicious! Thanks for sharing!
Slit each squid body open along one side with a sharp knife then score the inside of each in a criss cross pattern.
Set aside with the tenticles.
Heat 5 cm of Vegetable oil in the base of a deep frying pan.
Place the sea salt and the peppercorns in a pestle and mortar and crush coarsely together.
stir into the cornflour, then toss with the squid to coat.
Cook the chillies and salad onions in the hot oil for 30 seconds then scoop them out with a mesh spoon and drain on kitchen paper.
Cook the squid body and tentacles in the pan for 2 minutes until it rolls up and turns crisp and lightly golden.
Transfer the squid to a plate, scatter over the crispy chilli and salad onions and serve with soy sauce for drizzling and lemon wedges for squeezing over.