Chinese Chicken with Sweet Onions
Linky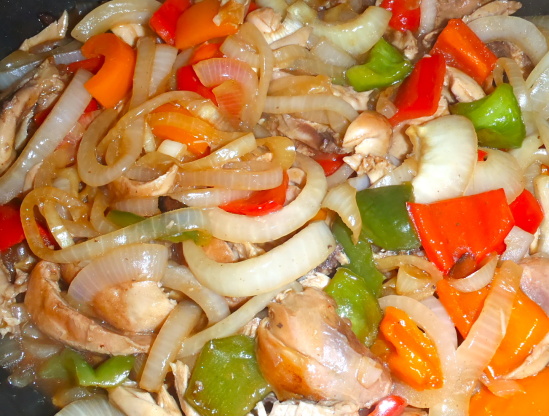 Very good! This was fast, easy to prepare, and the instructions were very accurate. Next time I would cut down on the amount of oil as I thought it came out a bit too oily. I also expected the ginger to permeate the flavor more fully - I think perhaps mincing the ginger pieces might help spread the ginger flavor so that with each bite you would get a burst of ginger flavor. Still, this really was very tasty and I will certainly make this again. The drizzle of hot chili oil at the end was really a nice touch.
Cut chicken into 1/2-inch cubes.
Clean bell pepper; cut into 1-inch chunks.
Quarter onions and slice thinly.
In wok, heat 2 tablespoons corn oil until it begins to smoke.
Add ginger, cayenne and chicken.
Stir-fry until chicken is thoroughly cooked, about 3 minutes.
Remove to serving dish.
Add remaining corn oil; heat.
Add onions and pepper; stir-fry until onion is slightly transparent.
Return chicken to pan; add soy and sherry.
Stir 1 minute more.
Sprinkle with sesame hot oil.
Serve with rice.