Chinese Chicken Salad & Dressing
Bayhill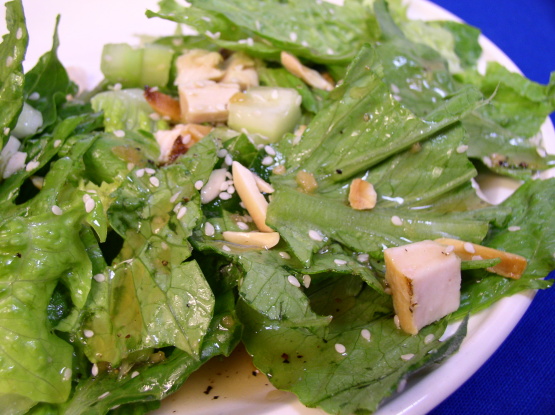 I could drink this salad dressing but it's even better drizzled on a chicken salad. Makes a nice main dish for lunch or dinner. Not for the calorie or carb-conscious.

You are so right, I could drink this dressing. Loved it. Made a Korean chicken thigh recipe to use in the salad. WOW was wonderful.
Sift sugar& mustard together.
Slowly add vinegar until smooth (whisk).
Place mixture on top of double boiler (or use diffuser under a regular pot instead).
Cook& stir on low until sugar is melted.
Stir in soy sauce, ginger, garlic and blend well.
Stir in oils.
Add lemon juice, salt& pepper.
Remove from stove, cool and refrigerate at least 4 hours.
Combine salad ingredients and drizzle dressing over top.