Chinese Chicken Lollipops/ Drums of Heaven
Bergy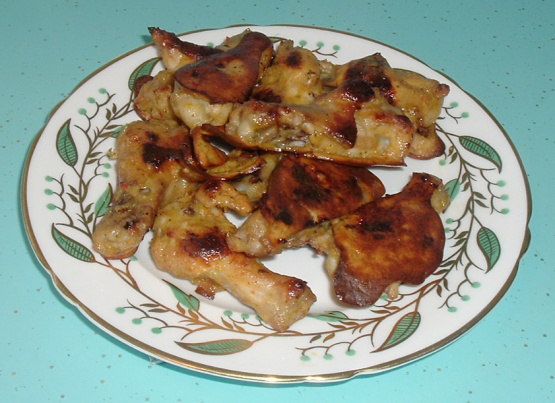 Eyes popped out right out of their sockets when I served these at a party for DH's friends. They propmptly shifted allegiance. ;)Lollipops are actually made with chicken wings. You get them readymade too in packs. Flesh in each half of the wing is scraped back to expose the bone so that the top looks like a lollipop. YOu can use whole wings too I guess as long as you can taste the sauce ;) They are traditionally fried but I do not fry stuff too much so tried baking them and preferred that option.

Top Review by Bergy
If I could just rate this on flavor it is at least a 6- however the instructions leave a bit to be reviewed. I followed the recipe exactly and wanted to bake the lollipops but without the flour it was very liquid and definately ran off the wings so I added the flour to thicken and it was still not thick but it coated the wings.I coated them and turned them at half time baking but they have a bit of a flat bottom as you can see by the picture. The flavor is fabulous, the appearance is great ant the recipe is great just needs a little tweeking in the instructions and perhaps a review of the flour for baking - if you do this send a note to me on Messages and I will rewrite this review and give it the 5 stars it deserves Thanks Fay I loved them
Cook the lollipops in salted water for 5 minutes.
Take them out of the water dry them thoroughly.
Saute in just the worcestershire sauce for another 5 minutes. Till they are completely dry.
Mix the rest of the ingredients to make a thick batter as for pancakes. Dip each lollipop into this batter and deep fry.
Variation: The other option is to bake (a low cholestrol option) these after sauteing them in the worcestershire sauce
Minus the eggs and the flour from the rest of the ingredients so that it forms a sauce rather than batter.
Bake or grill at 180C till they are cooked and browned.
Serve with Schezwan sauce.