Chinese Chicken Bites With Dipping Sauce
Pneuma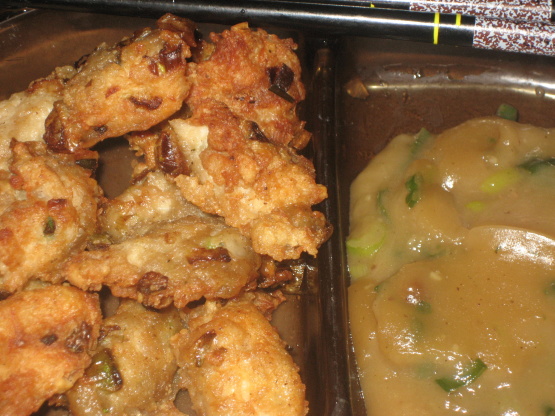 These are scrumptious little bites! Adapted from Mass Recipes.

I think that this tastes like a chicken egg roll without the egg roll part. My kids and husband loved it and so did I. I didn't bother making the dipping sauce and instead used my old chicken egg roll "dip" standby, Grey Poupon Country Dijon Mustard. Yup, I'll definitely be repeating this recipe in the future....thank you!
Combine ingredients-chicken through pepper- and mix well. Pour about 1/2" peanut oil in a heavy skillet. Heat to medium high heat. Drop chicken mixture by teaspoonfuls into hot oil. Reduce heat to medium-low and fry the chicken bites for 5 to 6 minutes or until golden brown, turning once. Drain on paper towels and serve immediately.
In a small saucepan, saute scallions in the sesame oil for 2 to 3 minutes. Add the rest of the ingredients and simmer until flavors are incorporated. Simmer for about 5 to 10 minutes. Sprinkle in the flour and stir well. Adjust seasonings to taste. If the mixture is too thick, add a little hot water to make desired consistency.