Chinese Chicken and Corn Soup
Peter J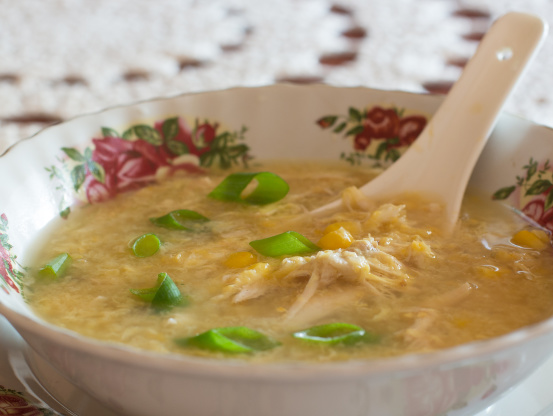 This is an amazing soup! A little extra effort required but very worthwhile.
made this a few times. It's very yummy. I always add sesame oil and sometimes a dash of soy or ginger depending on what I feel like. Sometimes I also add raw grated carrot into the bowls upon serving. I have also used it as a base for just using chicken legs or thigh fillets. thanks for posting
Place water, garlic, bay leaves and chicken into a large pot.
Bring to the boil, simmer uncovered for 40 minutes.
Skim any scum from surface as it cooks.
Remove chicken and remove the meat from the bones.
Discard the skin and bones.
Remove bay leaves.
Shred the chicken into small pieces and add back to the stock.
Refrigerate the pot of chicken and stock overnight.
Next day, remove all of the fat from the top of the stock and throw it away.
Reheat stock and add the stock powder, corn kernels, creamed corn and salt and pepper to taste.
Bring to boil.
Put a little water into a cup and mix in the cornflour to a thin paste, then whisk paste into soup.
Beat eggs in a small bowl.
Pour slowly into hot soup, stirring with a pair of chopsticks, to form thin strands of egg.
Serve soup garnished with the sliced spring onion.