Chinese Cabbage, Snow Pea and Mushroom Stir-Fry
Bergy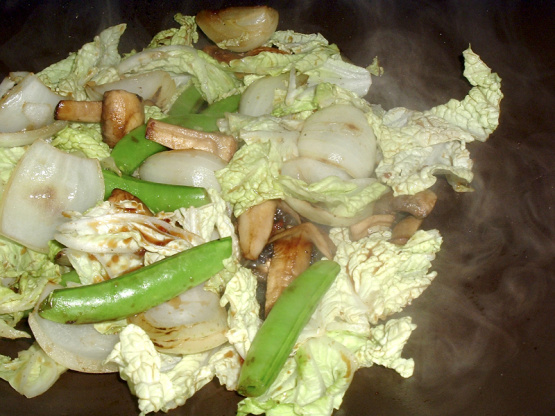 A simple, healthy and delicious vegetarian stir-fry.

We just finished eating this easy and tasty dish. It was a great way to use up the Chinese cabbage that I had in my fridge. I added the almonds in the beginning as instructed and they were a little too charred by the end, but still edible. I would either add them at the end, as Bergy did, or throw them in with the mushrooms. This is also a great recipe because of its versatility. I substituted 1 more tbsp of soy sauce plus 1/2 more tsp of dark brown sugar for the ketjap manis, safflower oil for the peanut, 1 tbsp ground ginger instead of fresh, 1/2 pound of shiitakes for all the mushrooms and 1 cup of edamame instead of the snow peas. Served over whole grain basmati rice=yummy and healthy too! Thanks Wendy's Kitchen :)
Combine soy sauce, kecap manis, sesame oil and sugar.
Heat peanut oil in wok over high heat. Add onion and almonds stir-fry 1 minute.
Add ginger, mushrooms and stir fry 2 minutes.
Add snow peas, cabbage and sauce mixture. Stir-fry 2 minutes.
Serve with steamed rice.