teresas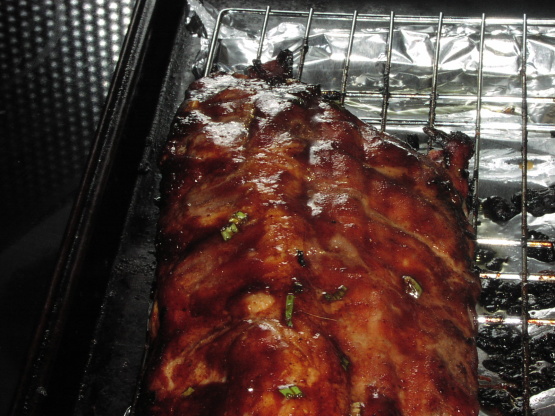 From Pillsbury Easy Chinese Cooking, these ribs can be baked or grilled.

I'm giving these 5 stars because I know the flavor is great but my cooking technique needed improvement. I had problems with my grill so cooked them in the oven. I hate doing that because they just don't "look like bbq ribs" when I make them that way. I just basted them until I ran out like a lot of the other reviewers did. These will be made again and on the grill next time, I promise. I served them with recipe #254759 and recipe #371575 for a yummy dinner. Thanks for posting. :)
Grill directions:.
Heat grill.
In small bowl, combine all ingredients except spareribs; mix well.
Set aside.
When ready to grill, place spareribs 6 to 8 inches from medium coals.
Brush with sauce.
Cover; cook 1 to 1 1/4 hours or until meat is tender and starts to pull away from bone, brushing frequently with additional sauce.
To serve, cut ribs apart carefully with knife and arrange on platter.
Heat any remaining sauce to a boil; serve with ribs.
Oven directions:.
Heat oven to 350ºF.
Prepare sauce as directed above.
Line 15x10x1-inch baking pan with foil; place wire rack in pan.
Place ribs on wire rack, meaty side up; brush with sauce.
Bake at 350ºF for 1 to 1 1/2 hours or until meat is tender, brushing frequently with additional sauce.
Continue as directed above.