Chinese Barbecued Pork ( Cha Sieu)
lazyme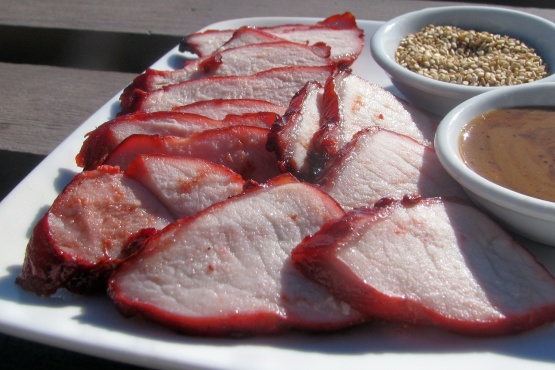 This is from the Diana Liu cookbook. I'm posting it here for future reference.

This is great, and much easier than I expected. I was in a hurry and barely got the 2 hours marinating time, and I will let it sit even longer next time, because I think longer would get even more flavor into the meat. Made for Fall 2011 PAC game.
Marinate pork in salt, pepper, five spice powder, sherry, soy sauce, food coloring, and hoisin sauce for at least 2 hours.
Pre-heat oven to 350*.
Bake pork on roasting pan rack for 25 minutes on each side.
Slice into 1/8" thick slices.
Serve hot or cold with toasted sesame seeds and hot mustard or soy sauce.
To make hot mustard: Mix 2 oz. dry mustard, 1/2 teaspoons salt, 2 oz. boiling water and 2 teaspoons oil; work all ingredients into a smooth paste.