Chinese Barbecued Chicken Wings
ImPat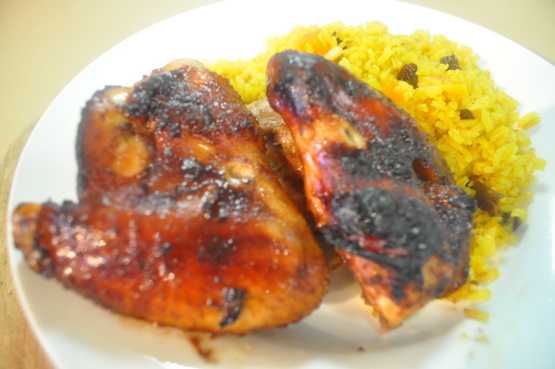 Based on a recipe from Ken Hom's Quick & Easy Chinese Cooking. Ken says that you may substitute chicken breasts, making sure to cook for less time. As an appetizer, this recipe is engineered for a large group, but for a larger crowd, simply double or triple the ingredients. Serve hot or at room temperature, which makes them suitable for picnics. The wings and sauce can be prepared in the morning of serving day, refrigerated, and simply taken out of the refrigerator in time to get them to room temperature before cooking. The barbecue sauce can be doubled in order to use half of it later for grilled lamb or pork chops.

Top Review by ImPat
The only change I made was to grate my ginger and chilli and then just mix the marinade/sauce in a jug and pour over trhe wings in the baking tray (lined and would adivise doing so) and made as per recipe and the result was moist wings that melted in the mouth. The only suggestion I would offer is that I cooked the wings the meatiest side up (I had removed the wing tips for stock) and I would cook them the initially the other way for the first 15 minutes (I did them 200C fan forced oven) and then flip to have the fleshy/meat side up and cook at 165C fan forced for the last 20 minutes. Though my photo looks like they are burnt they are declicatbly delicious and moist and only over the above suggestion to maybe get better colour coverage in the cooking. Thank you mersaydees, made for Please Review My Recipe.
Preheat the oven to 475 degrees F.
Place the chicken wings in an oven proof baking dish.
Add the barbecue sauce ingredients to a blender and mix for 5 seconds.
Pour sauce over the chicken wings and toss to coat thoroughly.
Bake in the oven for 15 minutes.
Reduce oven temperature to 350 degrees F and bake for an additional 20 minutes.
Serve hot or at room temperature.