Nif_H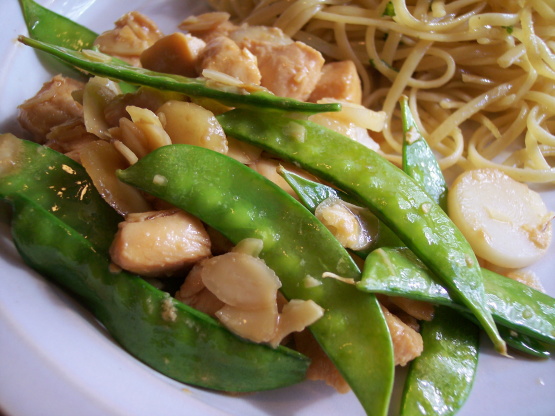 This variation has snow peas and water chestnuts. We love it and hope you will too.

Top Review by Nif_H
The marinade for this is excellent and the recipe is easy and very tasty. I would cut back on the oil next time because it ended up being a little too greasy. I made exactly as directed except for one boo-boo! I used soya sauce in the sauce instead of chicken broth so it was a little too salty. Still good though! Made for my teammate for ZWT6. Thanks BakinBaby! :)
Marinade chicken pieces in garlic,ginger,soy and cornstarch for 15 to 20 minute.
Mix sauce ingredients together in small bowl, set aside.
Heat wok with 1 tablespoons oil and stir fry almonds until lightly browned; set aside.
Heat wok with 1 tablespoons oil; add water chestnuts and snow peas and stir fry for 30 seconds, remove and set aside.
Heat wok with 2 tbsp oil and stir fry chicken pieces until they turn white and firm ( about 2 minutes).
Add cooked vegetables and almonds to cooked chicken in wok; mix and add sauce mixture.
Stir together until sauce thickens slightly.
Serve with rice or noodles.