GaylaJ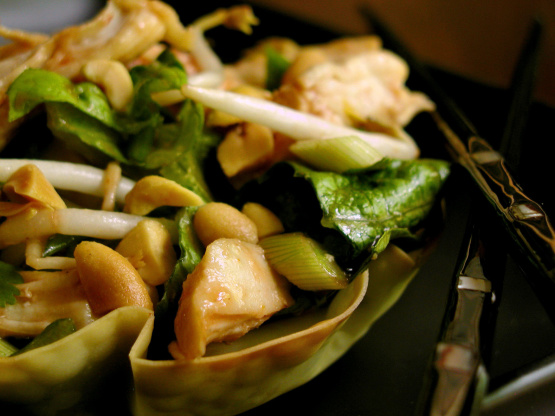 A light and truly delicious way to serve Chinese. Make a greatlunch or Sunday night supper! From AZUMAYA.com.

We loved this salad. Dave gave me a strange look when I placed the wonton filled with the salad on his plate. He said "Is that all I get" LOL They are very small portions, which was perfect for me. I only added 1 tsp of the sesame oil to the dressing and that was plenty for us. Thanks for another great salad Caroline
Preheat oven to 375 degrees F.
Spray large (4")custard cups or foil tart pans with oil.
Cut wrappers into 6" circles.( use the top of a 6" bowl for a pattern.
Fit each into pans/cups.(Edges will be ruffled).
Lightly spray each wrapper.
Bake until golden brown, 6-7 minutes. Remove to cool; store in airtight container until ready to fill.
Combine chicken, lettuce, bean sprouts, onions and cilantro in large bowl.
Whisk dressing ingredients in small bowl or jar until well blended.
Pour dressing over salad and toss to coat evenly.
Spoon one cup into each shell and sprinkle with peanuts to serve.