Chin Jao Ro Su (Bamboo and Bell Pepper Stir Fry)
gemini08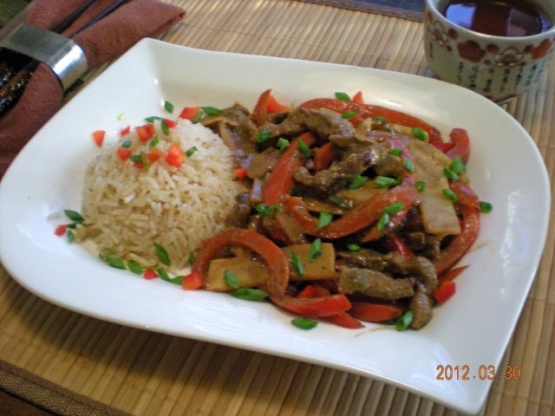 Japanese rendition, might not be authentic, but still good. Family recipe from Japan. Optional additions are sliced onions and carrots (for color). Add more garlic and ginger if desired.

This was a delicious stir fry with a lovely, velvety sauce! The addition of Sake really gave it that special, unusual flavor that everyone enjoyed very much. I ended up cooking the veggies in a separate wok because the meat was moist and I didn't want the veg to steam. I used red bell peppers and canned bamboo shoots as well as spring onions. Will make again! Made and reviewed for PAC Spring 2012
Combine first 5 ingredients in a bowl. Stir fry in oil with the garlic and ginger until brown.
Add bell peppers and bamboo shoots. Stir fry until done, about 5 minutes.
Add sauce during the last minute or so of cooking time.