Chimichurri Sauce - Argentinian Chimichurri Marinade
momaphet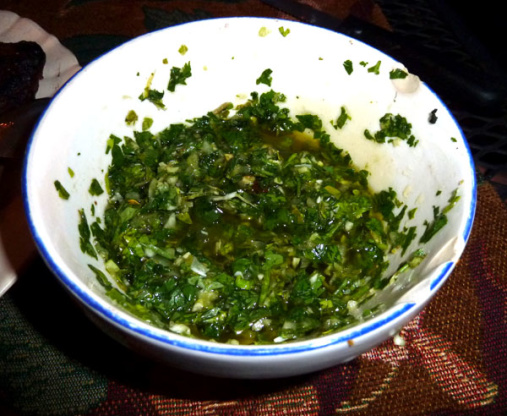 Posting for ZWT 7. This recipe comes from about.com/South American Food. You can develop your own proportions in this recipe. Some people prefer more garlic, some prefer only parsley, some add fresh tomatoes - experiment to come up with your own signature chimichurri.
This was excellent, we really enjoyed the fresh green taste of the herbs with the bite of the onion and garlic. I used both parsley and cilantro, I started with about 3 parts parsely to cilantro but it needed more cilantro. Next time I'd probably go half and half. I serve this with grilled steak it, also helped to jazz up some rather plain rice. Persoal preference, I would add a little more lime juice next time but other wise, great as written. Thanks Papa D, I'd never made chimichurri sauce before but it's now going into my repertoire! Made for ZWT 7 for the Food.commandos
Pulse the garlic and onion in the food processor until finely chopped.
Add the parsley and/or cilantro, and oregano if using, and pulse briefly, until finely chopped.
Transfer the mixture to a separate bowl. Add the olive oil, lime juice, and vinegar, and stir. (Adding the liquids outside of the blender gives the chimichurri the correct texture. You don't want the herbs to be completely puréed, just finely chopped).
Season with salt and red pepper flakes to taste.
Store in the refrigerator until ready to serve.