katia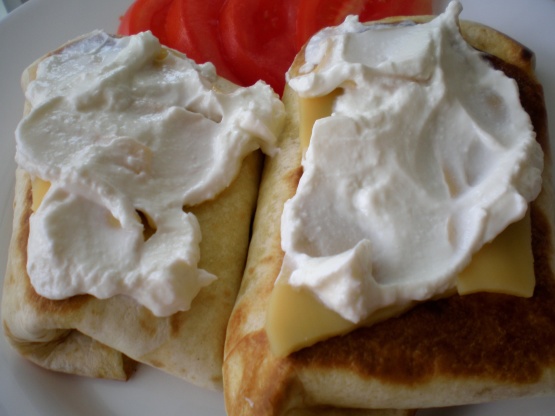 This Mexican inspired dish is my own creation and is a household favorite! We MUST have this dish at least once a week. Be warned, it's extremely tasty and addictive. We always serve this with Basic Mexican Rice Basic Mexican Rice. I suggest adding a tsp of your favorite hot sauce if you like your filling to pack a little more heat.

A really fun recipe to try out! I also messed with the spices & got a pretty taste meat mix; I added some chopped spinach & diced zucchini to add nutrition. I admit I chickened out with cooking this like a chimichanga; instead I cooked it on my stovetop like a folded-over quesadilla!! I topped the meat with reduced fat mozzarella & red onions. I served it with some salsa & fat free sour cream. It was yummy, but a tad try so I may try adding a little taco sauce into the meat mix. Thanks so much for sharing this!!
Turn oven to 200 degrees.
Wrap tortillas in foil and place in oven to soften and warm.
In a bowl, combine ground turkey with garlic, onion and spices.
Mix by hand until well incorporated.
Cook turkey mixture in skillet over medium heat until meat is done.
Drain off most of excess fluid.
Heat oil in skillet on stove on medium-low heat.
Remove torillas from oven and fill with about 1/4 of turkey mixture.
Wrap torilla envelope-style and set seam side down on platter.
Repeat until you have 8 burritos.
Take burritos and fry two at a time in skillet, about 1 to 2 minutes for each side.
Be sure to fry seam-side down first to keep a uniform shape.
Serve hot with shredded cheddar and sour cream and thoroughly enjoy!