Chiltomate (Cooked Tomato and Chile Salsa)
Jostlori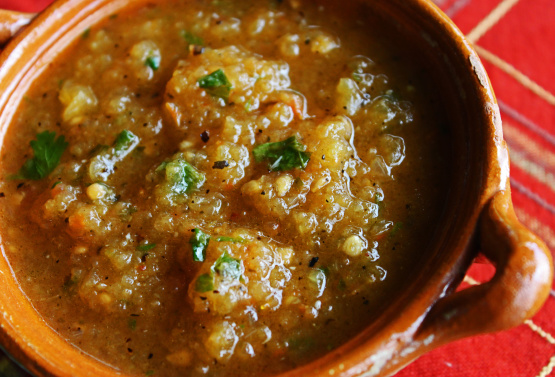 Traditional recipe from the Yucatan Peninsula. Aquired while vacationing in Cancun, Mexico.

I can certainly vouch for the authenticity of this recipe. Although my family is not from the Yucatan, this type of cooked salsa is found all over Mexico and is very familiar to me. I've made this many times before, but have never measured or counted ingredients. But, I made this salsa exactly as written, and found it perfect for my "heat" tolerance, though not so much for DH! If you want it hotter, and you've already made the salsa, you can add more heat by roasting more jalapenos, then putting a bit of the already made salsa in the blender along with the peppers. Process, then combine with the rest of the salsa. This way, you don't dilute the delicious "roastedness" of the salsa. Thanks for another wonderful recipe, and one that I can pass along when friends ask "how do you make that?" Made for My 3 Chefs 2013.
Preheat a griddle or a large heavy skillet over medium-high heat. Roast the vegetables and the garlic on the griddle for 6 to 8 minutes, turning them with tongs to brown all sides.
Peel the chile and discard the skin and seeds. Peel and dice the onion, tomatoes and garlic.
Place the roasted ingredients and dried oregano in a mortar, blender or food processor, and grind or chop to the desired consistency.
Warm the oil in a large skillet over medium-high heat. Add the salsa and sauté for 2 to 3 minutes.
Stir in the fresh oregano and cilantro, and season to taste with salt. Serve warm or at room temperature.