Chilli Tomato Prawns and Scallops
Nif_H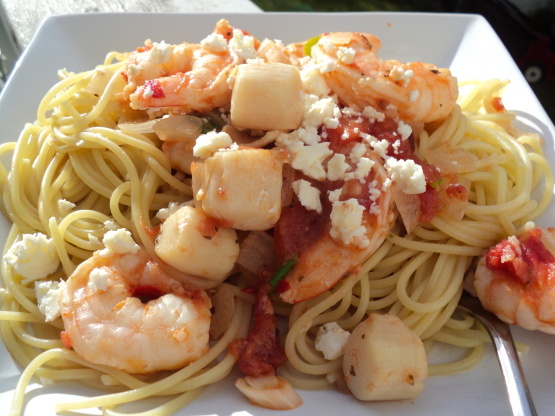 From the Woman's Day magazine. Suggested you serve with steamed rice and top with rocket. Time does not allow for peeling prawns. Tips given - 1. Use chilli sauce to taste in place of chilli. 2. Omit scallops and use 500 grams prawns. 3. Serve with crusty bread. The original recipe included 100 grams feta cheese which was crumbled and added at the end. The weight of prawns is flesh weight, if buying whole to peel you would need 450 to 500 grams.

Top Review by Nif_H
If you like scallops and prawns, you will really enjoy this recipe! I used the smaller scallops so I didn't have to cut them in half. The directions are very good and I added some salt and pepper because it just needed a bit more seasoning. As you mentioned in the description, I topped it with a bit of feta. Made for Went To The Market tag game. Thanks I'mPat! :)
Heat oil in a large frying pan on medium. Saute onion and garlic for 2 to 3 minutes, until onion is tender.
Blend in tomatoes, wine and chilli and season to taste. Simmer for 2 to 3 minutes.
Stir in prawns, scallops and spring onions, simmer for 3 to 5 minutes until prawns change colour and are tender.
Season to taste.