3 Reviews
Scrumptious prawn recipe that is quick, easy and had enough flavor for me without being too hot for DH! I made as written using ketchup option as I did not want left over tomato sauce, really appreciated that recipe called for cooked and peeled prawns. As this is so tasty, quick, easy and does use pre-cooked prawns will be making again. Thanks for the post.

Really tasty and easy-to-put-together meal! I doubled the ingredients, using 13-15 size shrimp and foregoing the chili pepper, because I didn't have one. There was plenty of heat, though, without it being too spicy. I substituted cornstarch for cornflour (hoping that it was close enough). I had plenty of sauce to go with the shrimp and the rice I served it over. Thanks for sharing this quick, delicious recipe. Made for PRMR Tag Game.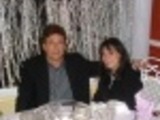 Russ and I really enjoyed this thanks Pat. I used 500g raw prawns which I added after the green onion, cooked a few minutes, then added in the sauce. I used the chilli and felt it gave the dish just the right amount of heat for us. My dish was nowhere neare as saucy looking as yours and I would definately double the amount of sauce next time.

Chilli Honey and Garlic Prawns