Chilli Honey and Garlic Prawns
Prep 10 mins
Cook 10 mins

My DH printed this recipe from a blog and asked me to save it here for us to try when we could get some of the local Mandurah prawns to try it with. Times are estimated and do not include peeling prawns, which would take me about 15 to 25 minutes depending on size of prawns. We made this last night and I have made some minor changes to the original recipe, we served it with fried rice (which I had defrosted from the freezer and heated in the microwave) for a quick easy meal. The original recipe had 380 grams of prawns but we found 500 grams (this is unpeeled weight) did the 2 of us for a main meal but would do 4 has an entree or starter course or as a main if adding more sides. We added the fresh chilli to the recipe as we do enjoy a spicy prawn dish.
Directions
In a bowl, stir together water, tomato sauce, soy sauce, cornflour, honey, crushed chilli flakes and ground ginger and then set aside.
Heat oil in a wok or large frypan over medium-high heat and stir in spring onions, garlic and chilli and cook for 30 seconds.
Stir in prawns and toss to coat with oil and then stir in prepared water and sauce mix and cook and stir until it is bubbly and thickened.
Serve over cooked rice.
Most Helpful
Scrumptious prawn recipe that is quick, easy and had enough flavor for me without being too hot for DH! I made as written using ketchup option as I did not want left over tomato sauce, really appreciated that recipe called for cooked and peeled prawns. As this is so tasty, quick, easy and does use pre-cooked prawns will be making again. Thanks for the post.

Really tasty and easy-to-put-together meal! I doubled the ingredients, using 13-15 size shrimp and foregoing the chili pepper, because I didn't have one. There was plenty of heat, though, without it being too spicy. I substituted cornstarch for cornflour (hoping that it was close enough). I had plenty of sauce to go with the shrimp and the rice I served it over. Thanks for sharing this quick, delicious recipe. Made for PRMR Tag Game.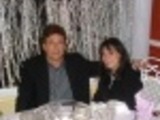 Russ and I really enjoyed this thanks Pat. I used 500g raw prawns which I added after the green onion, cooked a few minutes, then added in the sauce. I used the chilli and felt it gave the dish just the right amount of heat for us. My dish was nowhere neare as saucy looking as yours and I would definately double the amount of sauce next time.