Sara 76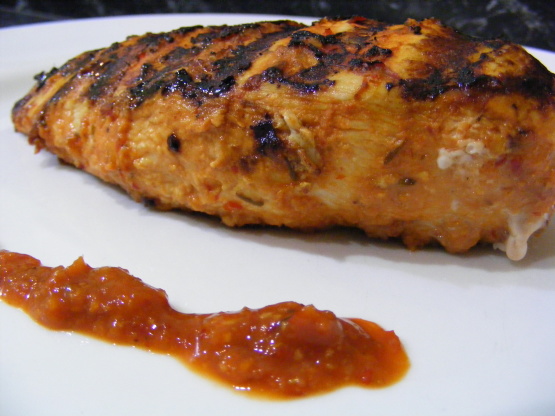 This sauce is from Madagascar, and was posted for ZWT7 - Africa. It is a delicious spicy sauce, which is simple to make. I used it as a marinade for chicken breast fillets, and cooked them on the grill plate. I also used a little extra on the side. It went perfectly with the chicken, and I think it would team well with most meats, firm fish, even prawns..the possibilities are endless!

Great recipe, so simple to put together and very budget friendly. I made half the recipe and it made a perfect cup full. This reminds me of sambal oelek....if you wanted more of a sweet spicy sauce I think you could easily just add some sweetener and use for other things. I did tone it down just a bit with some extra tomato sauce, just personal preference and I used some really hot little chilies. It's quite spicy so aside from serving as a condiment for the spice lovers in the house, I'll use a bit here and there to lend a spicy boost to other recipes. Thanks Sara!
Place all the ingredients in a saucepan, bring to boil, stirring, then reduce heat and simmer for 15 minutes.
Remove from the heat and allow to cool.
Transfer to a food processor or a blender and process to a puree. Keeps for many weeks if stored in an airtight container in the fridge.
Can be used as an ingredient in recipes or as a condiment.