JustJanS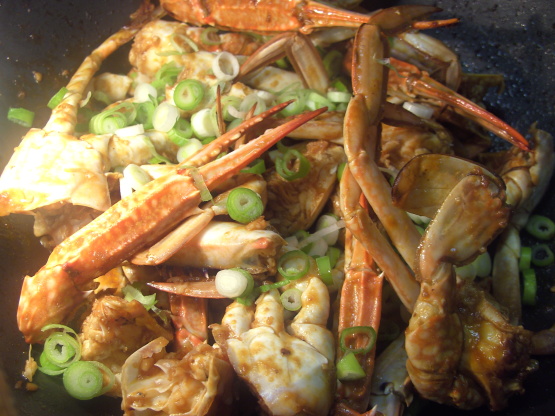 Got this out of the paper advertising a crab festival in 1996. My neighbor loves this for the sauce (hubby gets the crabs), she likes to use it with chicken, fish or beef (dices the meat and simmers in the sauce till cooked and serves over rice with vegetables). I serve it with rice to pour the sauce over and some vegetables to make a complete meal.

Awesome! Cooked up 3 blue swimmer crabs (Australia), and my wife, whose never really liked crabs was raving about them. Used chicken stock and thai palm sugar and didn't think it needed any extra chili sauce. This was surprisingly easy to make. I used a proper carbon steel wok and they turned out great. The meat was so tender they were actually pretty easy to eat too! Of course, they were still quite messy - but that's half the fun.
If crabs live, put in freezer for 10 minutes to stun.
Remove back shell and clean spongy bits and brown stuff, clean in water.
Cut in half lengthwise.
Remove claws from body and hit with blunt side of a cleaver to crack in several places.
Cut the halves into two or three pieces leaving legs attached.
Pound ginger and chili until they form a paste, or zap in the food processor or blender.
Mix soy sauce, sugar, water (or stock), tomato sauce and chili sauce (if using) in a small jug.
Put oil in a large hot pan or wok and over a medium heat fry ginger/chili mix for a few minutes.
Add the crab pieces and stir fry at a higher heat till crab pieces turn red.
Add liquid mixture and bring back up to the boil, add sesame oil, lower heat to medium and cover with lid for a few minutes giving the occasional stir.
Garnish with sliced spring onion.
Don't forget the finger bowls and a bowl in the middle for the shells and lots of paper serviettes/napkins.