JustJanS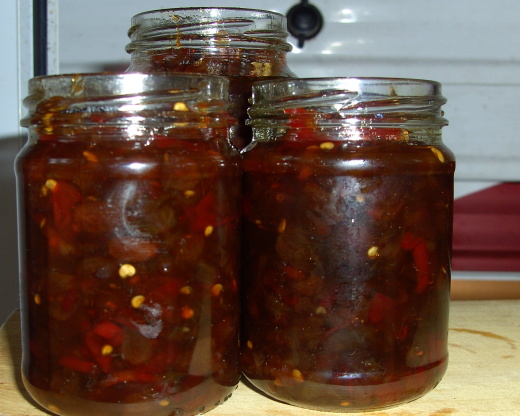 Delicious on a ham and cheese sandwich or on cheese & crackers.

I was lucky enough to spot 2 BIG bags of chillies at a local supermarket on their throwout table. for 50c each The chillies were in excellent condition so I grabbed them then went looking for a quick and easy way to use them (we are away from home living in a caravan). I picked this recipe as I had all the other ingredients on hand (it's a 6 month trip and a well stocked caravan LOL). I made 4 times the recipe and would like to suggest anyone else making it multiply the recipe at least a few times. It sounds a big batch, but remember the sultanas, onions and chilli don't pack into the cup very tightly. I'd estimate I ended up with about 1 1/4 litres of chutney in 3 small and 1 larger jar. It was lovely to watch the colour go from start to a beautiful mahogany and the taste is already wonderful so in a few weeks maturing, it should be amazing. We can't wait to try it with cold meats, sausages and cheese.
Chop chillies and onion.
Simmer all ingredients stirring regularly to prevent catching, until a nice rich brown colour.
Bottle into sterilised jars, put lids on when cold.