Peter J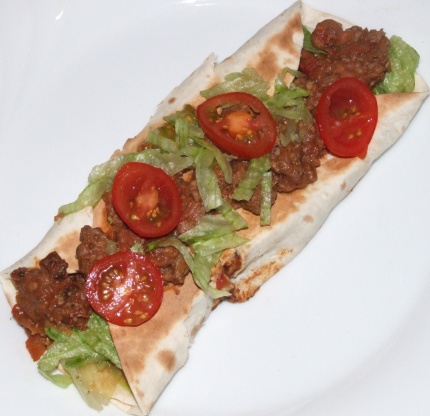 This is a fantastic chilli with a really developed flavour, which it gets from my secret ingredient - coffee. Try it, it really packs a punch. Serve this chilli in baked potatoes or use it to fill soft tortillas.

Did not enjoy this recipe, the chinese 5 spice was somehow wrong made it more like curry than chilli. I followed the recipe but upon tasting quickly added 1tsp cumin, 1tsp ground coriander and 1tsp paprika, this improved the flavour but didn't quite redeem it. I didn't think the coffe was so great in it either. Sorry!
Heat the oil in a large pan and cook the onion, garlic and chillies for 3-4 minutes until begining to soften. Add the mince and five spice powder and cook for a further 3-4 minutes, stirring, until the meat begins to brown.
Add the kidney beans, tomatoes and coffee. Bring to the boil and simmer for 20 minutes until the mixture is thick and fairly dark. Season to taste.
Fill the taco shells with shredded lettuce, then pile in the chilli mixture. Top with a spoonful of soured cream, if liked and a shake of paprika and serve with a leafy green salad.