JustJanS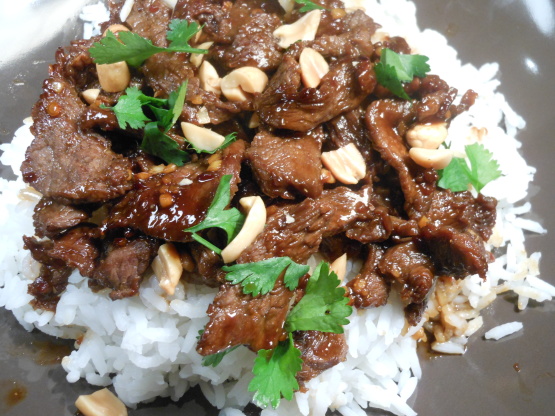 Sourced from Bowl Food cookbook we got from somewhere :) We used blade steak cut into thin strips - adjust to your taste or availability. Palm sugar can be substituted with soft brown sugar. Measurements are metric as we are Aussies! Prep time includes the marination, but not any accompaniments.

I also have this cookbook, so seeing your newly posted recipe prompted me to make this. It was yummy and super easy, but next time, I'd double the marinade (at least) then hold back a good portion of it. I'd heat it in the wok, then add back in the beef to warm it through before serving over the rice. My cookbook came from a $5 table in our local Coles supermarket recently!
Combine, kecap manis, sambal oelek, garlic, ground coriander, palm sugar, sesame oil, and 40 ml of water in a bowl large enough to accomodate beef. Add beef and coat well, covering and refridgerate for at least 20 minutes.
Heat wok over high heat, add peanut oil and swirl to coat. Cook beef in batches until browned.
Serve beef with your choice of rice and/or vegetables - topping beef with the peanuts and fresh coriander.