Chilli and Parmesan Scones
Derf2440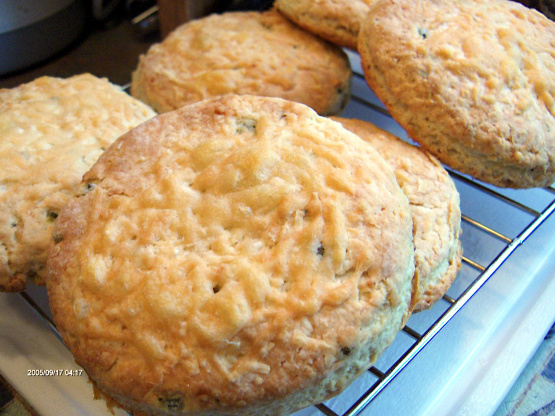 A lovely savoury version of the good old scone. I came across this recipe in 'Ideal Homes' magazine and thought I'd have to give it a try. Great for easy entertaining. They are lovely served warm with a mild, creamy goats cheese and a sweet tomato chutney.

These are great scones!! I used non hydrogenated margarine so mine probably weren't as flaky as they should have been but were still delicious. The texture is very nice, fluffy and light. Great taste too!! Thanks Sylvie!! :)
Sift the flower and baking powder into a bowl and using your fingertips rub in the butter until the mixture resembles breadcrumbs.
Add 2/3 of the cheese, the chillies and salt and mix inches.
In a separate bowl beat the eggs with the milk.
Pour egg mixture into flour mixture.
Stir with a palette knife until you have a smooth dough.
On a lightly floured surface roll out dough so it is about 2cm thick, try handeling the dough as little as possible, don't kneed and twist it.
Using a scone cutter or a glass cut out 5 cm cirles.
Repeat rolling and cutting the dough until it's all used up.
Place on a baking sheet, which has been lightly dusted with flower and sprinkle with the remaining cheese.
Bakein a preheated oven for about 15 minutes at 220 C/425 F/ Gas 8.