Chilled Tomato & Red Pepper Soup
Isabeau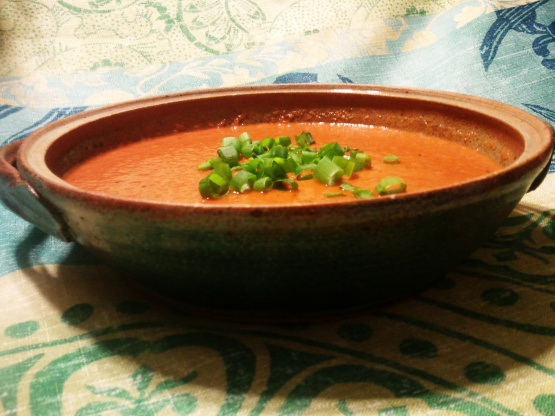 From a cookbook simply titled Mediterranean. From a place where the tomatoes taste like sunshine, it's a little harder to make this soup in North America, where the tomatoes sometimes taste like water... I suggest using Roma tomatoes, but whatever you choose, make sure they smell like tomatoes! Otherwise this will taste like cold pasta sauce. Cook time includes time to cool and chill.
Cut each pepper half into quarters. Place skin side up on a grill rack and cook until skins have charred. Transfer to a bowl and cover with a plate. (I put them on the barbeque to keep the heat out of the house.).
Heat the oil in a large pan. Add onion and garlic and cook until soft. Meanwhile, remove the skin from the peppers and roughly chop them. Cut the tomatoes into chunks.
Add the peppers and tomatoes to pan, then cover and cook gently for 10 minutes. Add wine and cook a further 5 minutes, then add stock and salt and pepper to taste and continue simmering 20 minutes.
Process the soup in a blender until smooth. (I let it cool a bit first. Easier to handle, and less like to explode!) Pour into a clean glass or ceramic bowl and leave to cool completely before chilling for at least 3 hours. When soup is cold, season to taste. Serve in bowls topped with croutons, if you wish, and garnished with snipped chives.