harfords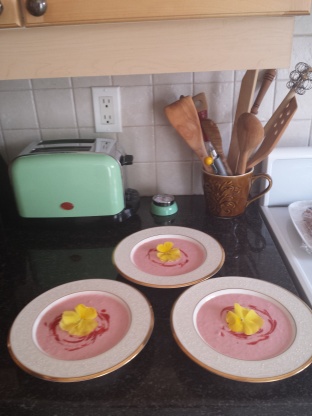 When I went on a cruise I discovered that I loved chilled fruit soups - this recipe is from the Cruise Cookbook (A Culinary Journey - Princess Cruises).

I'm sure I didn't do this soup justice by omitting the Frangelico, but I did use a bit of hazelnut extract to compensate (even if just a little)! I did manage to find the pink peppercorns & then for the garnish I made my own creme fraiche with some whipping cream & buttermilk! Anyway, the soup I came up with was very nice tasting, & I highly recommend it for those who enjoy these chilled soups! Thanks for sharing! [Tagged, made & reviewed in Newest Zaar Tag game]
In a blender or food processor puree the strawberries with the grape juice. Set aside 1/2 cup of the puree to serve as a garnish.
Add the remainder of the soup ingredients (yogurt - nutmeg) to the blender and puree.
Adjust seasonings and chill well. You may want to adjust seasonings again before serving.
To serve: Serve the soup in a chilled bowl. Using a ring mold arrange the sliced strawberries in the center of the bowl. Fill the strawberry ring with creme fraiche. Pour the soup in the chilled bowls and garnish with drops of the reserved strawberry puree and more creme fraiche. Garnish with edible flowers, pink peppercorns and fresh mint.